Believe it or not, I am actually working on some hockey related material. It is honestly no fun to write about whatever everyone else is writing about because if you're reading this sentence you've already gotten the idea. I have got several idea that I am looking into. One of which involves that profile on the UTC inline hockey program that I mentioned when I first started this blog. But, on to the reviews.
I have a system when it comes to prepping to write the reviews. Each album gets one side of a standard 3x5 index card. Whatever I can fit on there goes into the review, with the goal being to keep these things short. Seriously, no one wants to read long-winded reviews. Today we've got two bands that are awfully different, as you'll quickly learn.
Reviews after the break
Esben and The Witch –
Violet Cries
(
iTunes
)
Wow. So, this album is shocking thick and oppressive despite the airy nature of the vocals and the winding, ethereal guitar. If the apocalypse is heralded by death metal and industrial bands, Violet Cries is what will be played when the dust settles and the human race is being roasted on spits turned by demons. In pretty much every song someone seems to be drowning, sinking, on fire, or just plain miserable and tortured because she's been covered in some sort of sky oil, and you really feel every second of it. Singer Rachel Davies delivers each song with a voice that floats and shudders in the wind like a crazed raven. There are some great tracks on here with Marching Songs, Light Streams, and Warpath showcasing the talents of the band. Much of the album allows you to journey through the songs and experience the smoldering darkness that is the album, but after a time it just starts wearing at me. The vocals are pretty much the same from song to song with only the lyrics adding any variation. The music elements are also pretty cool and laden with clever uses of synths and guitar effects. Still, it just can drag sometimes and like I said in the beginning, it can get oppressive and I just want a breath of air.
Esben and The Witch - Marching Song
from
Agenda Collective
on
Vimeo
.
The Wonder Years –
Suburbia I've Given You All and Now I'm Nothing
(
iTunes
)
(the album is currently on pre-order and will be available on this Tuesday, that means toss some money at those boys if you can)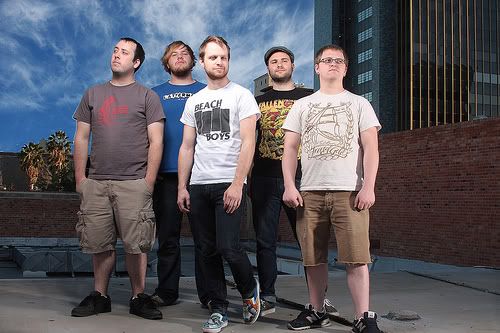 Not hipster goths. No, these are nerds
The Wonder Years have never been a band to shy away from convention; in fact their sound embraces a great many pop punk conventions. The main thing that really separates the Philly based band is their lyrical content. When you first hear the band you will expect to hear a dozen or so songs about broken hearts and girl troubles, yeah… that isn't going to happen. The Wonder Years wrap you in a warm and fuzzy pop punk blanket and then treat you to stories about life, disillusionment, and the nostalgia of turning into an adult. On their newest album they continue to deliver all that I have described but with even better lyrics and a richer and denser sound. I Won't Say The Lord's Prayer was an interesting break from the raw and emotional stories for a three-minute blast of religious/social commentary. The weakest track on the album is probably I've Given You All. It is song vocals and an acoustic guitar and just doesn't flow as well as the rest of the tracks. The two things it does right are in the always-strong lyrics/story and providing a fantastic setup for a powerhouse track in Don't Let Me Cave In. I can already tell that Suburbia is going to be a high-rotation track through the summer and the rest of the year. I'm not afraid to say that the album is likely top ten material.